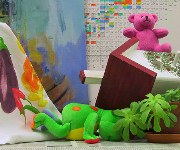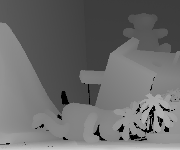 Welcome to the Middlebury Stereo Vision Page. This website accompanies our taxonomy and comparison of two-frame stereo correspondence algorithms [1], extending our initial paper with Ramin Zabih [2]. It contains:
How to cite the materials on this website:
We grant permission to use and publish all images and numerical results on this website. If you report performance results, we request that you cite our paper [1]. Instructions on how to cite our datasets are listed on the
datasets page
. If you want to cite this website, please use the URL "
vision.middlebury.edu/stereo/
".
References:

---
Other online stereo benchmarks:

Support for this work was provided in part by NSF CAREER grant 9984485 and NSF grant IIS-0413169. Any opinions, findings, and conclusions or recommendations expressed in this material are those of the authors and do not necessarily reflect the views of the National Science Foundation.